Site Builder Web Template with Web Hosting Service
Customer Contact Form Available in All Websites
Our website service is popular across many different business sectors, including motoring, property, accommodation, photography, recruitment, education, e-commerce and sport.
We also offer a generic website template range, which can be customised to suit the needs of your company or sports club.
We've created over 120 website design categories for you to work with. If yours is not on the list, then this is the website for you.
Reference: QUICK263
This multi-purpose site template is versatile and offers a high degree of flexibility: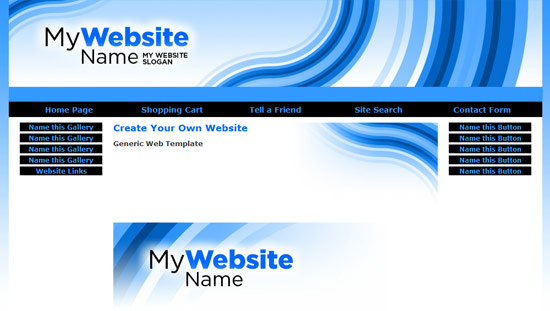 Build a Business Website: Prices from only £7 per month
Pay using your local currency. Other currencies on offer: US $11; Euro €9; Canadian $12; Australian $12.
Features include the option of adding a PayPal shopping cart, product photo gallery and video gallery. It also includes a site search, a contact form and email a friend functionality.
With this template (and indeed, with all our site templates), we have done everything we can to give you as much creative freedom as possible, so that you really can create your own design.
In other words, you can use one of our templates as a starting point; and then customise it for your own use. For example, you can add your own business logo, upload your own background image, or add images to be used as menu buttons.
Colour and Design Concept
This modern design template is presented using swirling graphics and an array of blue colours overlaid on a blue-to-white gradient. Broadly speaking, the colours are unlimited with our website toolkit, so you can upload your own picture images and produce a new colour scheme to suit your requirements.
We can replace the wordmark logo text with new wording, or, you can log in, upload your own JPG or GIF pictures and create a unique design concept.
Let's get started...
Select your upgrades.
Click the large 'Go to checkout…' button on the right-hand side of the screen.
Please complete the 'Checkout' form and click the 'Confirm' button.
This will take you through to WorldPay, where you can make a secure purchase and sign-up.
When you are finished, you will see a 'Thank you' screen and your 'Welcome email' message will be sent to you immediately.
Next Steps
Via email, you will receive a username and password to 'Make Your Own Website'.
You can now log into the QuickontheNet.com website toolkit to rename, add and remove your menu buttons.
You can change the design scheme and upload your own logo.
You can add content, upload photos, add your product descriptions and photos, add PayPal payment buttons, graphics etc.
Please remember, we're here to help you along the way.